Are you getting ready to sell your home? Since the supply of homes for sale has increased this year, today's buyers have more options than last year. That may mean you cannot ignore some of those repairs or cosmetic updates you could have skipped in previous months. 
So, what are the best home renovations to do before selling? Here are a few ideas that can help boost your home's value without breaking the bank.
NAR, the National Association of Realtors, conducted an impact report on projects that could net your the best return (see visual below):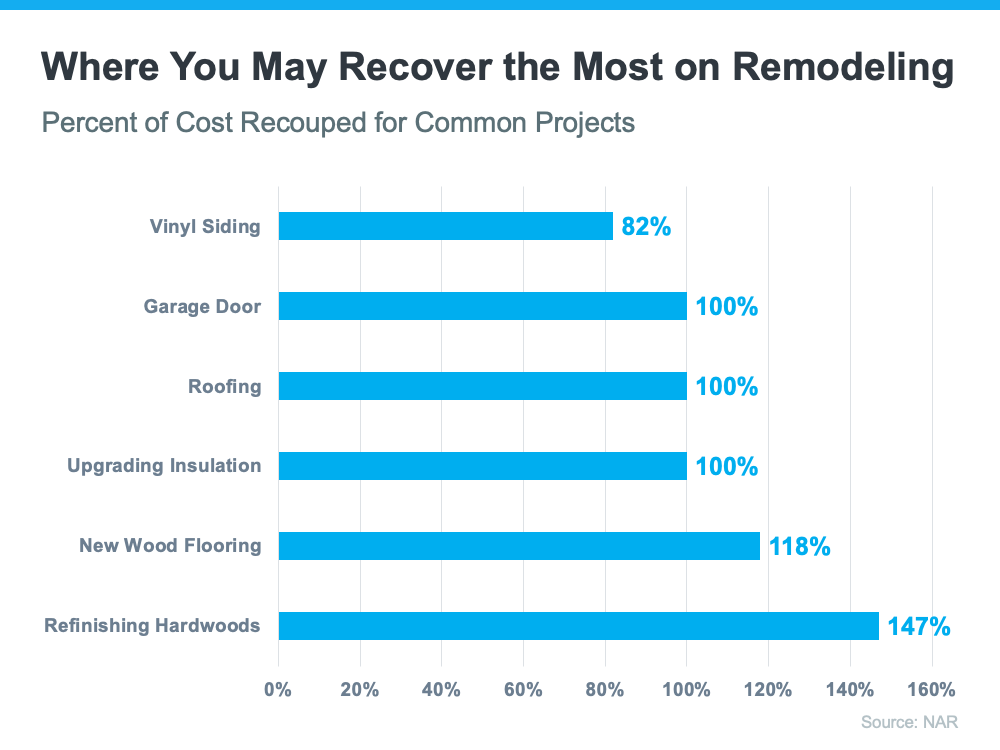 Hardwoods are currently the winner on the project that may give sellers the best return. If you do not have hardwoods throughout your home, installing them in the main living areas is a great way to make a significant impact. Additionally, although it's not listed in the visual above, an inexpensive and common remodeling project is simply painting. A fresh coat of paint can lighten and brighten any room.
Focus on the Bathroom & Kitchen
When considering a sale, the two most important rooms in the house are the kitchen and bathroom, more specifically, the master bathroom. Unfortunately, these are also the two most expensive areas to renovate. If you do not have the budget for a complete makeover, there are still some things you can do to update these rooms without spending a fortune.
One way to save money in the kitchen is by refacing your cabinets instead of replacing them. This will give your kitchen an updated look without the cost or mess of a complete renovation. You could also replace cabinet hardware and install new countertops to provide the room with an entirely new feel.
Consider replacing outdated fixtures such as toilets, sinks, and towel racks in the bathroom. You may also want to add some storage or update the tile. As with the kitchen, you can quickly and easily give your bathroom a facelift by painting it.
Consult a Real Estate Professional
Consult a real estate professional if you are unsure about what home renovations to do before selling. They will be familiar with the current trends in your area and can advise you on which projects will give you the best return.
When you are ready to sell your home, contact me, and I will help you through the entire process from start to finish! I have experience assisting sellers in finding success in today's market and would love to put my knowledge to work for you.